Islamic Wedding Cards
Islamic Wedding Cards
Marking The Wonderful Relationship With Islamic Wedding Cards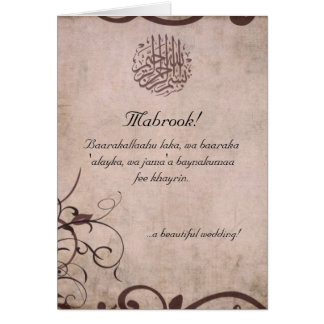 Islamic wedding cards | Image Resource : rlv.zcache.com
Nikaah is a wonderful ceremony which brings two hearts at one place for the entire life. It is a blissful event when commitment and love between two families get exchanged and a new relationship is born. The Muslim wedding in Urdu is called as Nikaah which is celebrated in a calm way. In order to grace the witnesses of friends and relatives at the event, wedding cards are designed exclusively. Similar to other occasions, the wedding cards in Islam are also treated to hold greater significance in the society.

The soon to be married couple and their respective families choose a wedding card carefully. As soon as the Islamic wedding cards get ready, they are sent to the guests cordially to come to the event and bless the couple. In earlier days, Nikaahnama were made just with names of bride and groom and wedding day details, but now there are many more things added regarding the wed lock.

Nowadays, wedding cards are not mere a letter of invitation, rather they are a symbol of status. These cards are handed over personally to important people of the family to request their presence on the beautiful event of one's life.


Getting rightly designed Islamic wedding cards

The weddings of Muslims are a treat to eyes. The ambience and decoration the do is simply different from the rest f the communities. Women wear ethnic dresses and beautiful ornaments and do a lot of bright make up. Irrespective all other things, Islamic wedding cards are noticed be one and all. While you have to make selection of the wedding invites, some vital things to consider are price and design of the card.

In addition to this, the permission of the family people is needed in every decision making of the event. In order to be confident of the choice you make, there are some points to follow.

1. Colour: Islamic people are very particular about the colour. Majority of the people choose green colour as it is a universal colour of Muslims, and is a symbol of sacredness and luck for them. However, white is also chosen by many people as it reflects peace and purity as well. Muslims do not like dark and bright colours such as red, orange, blue or so. They prefer light coloured cards with a combination like white and gold, green and silver, and more.

2. Designs: Muslims are tempted towards designs like paisley, moons, and mostly abstract designs. They do not like to have human or any kind of prints in the Islamic wedding cards. Peacock design, intricate patterns, domes, feathers and leaves are some of the popular designs used by Muslims.

3. Calligraphy: A lot of people give much focus to calligraphy styles. They wish to have the names in the card in the most beautiful manner. Cursive writing and Urdu language is preferred to write the content of the card. All the important details are to be written in bold and clear fonts.

4. Material: Depending on the budget, the material of the card can be determined. Some of the costly ones are silk, satin, velvet paper, and metallic paper. If you have a budget then you can use embellishments.


Having perfectly made Muslim wedding invitations

A perfect Muslim wedding invite should have both traditional and religious aspects. Besides the colours and designs, name of Allah and some versus from the holy Quran would mark the presence of god on the new relationship. In addition to this, having parent's name of the card is also a right way to make Islamic cards. So, remember all these things while printing the cards.